How to Pressure Wash Houses, Decks & Concrete Driveways
Published on Tuesday, August 13, 2019
It's common sense that different surfaces require different cleaning strategies. Too much power causes damage. Not enough PSI and those stubborn stains won't budge. Learn what PSI, nozzle type and surface cleaner work best for your specific application before renting or purchasing a pressure washer.
House Power Washing
Pressure washing is a convenient way to clean house siding and gutters. Remove stains or prep for painting. Power washing can clean almost any exterior material, including: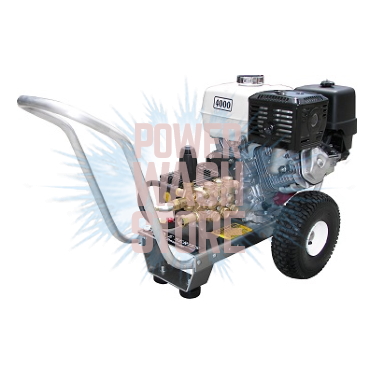 Vinyl siding
Wood siding
Aluminum siding
Steel siding
Stucco
Brick
You'll want to first attach the soaping nozzle to cover your siding in detergent. This nozzle has an extremely wide angle of spray, to provide maximum coverage. Let the soap sit for five to ten minutes, then attach a 25 or 40-degree nozzle tip. The narrower the angle, the higher the PSI. Always begin with a wider angle nozzle to prevent accidental damage. Begin by standing at least three feet away from your home. Slowly get closer, then switch out nozzles if necessary, until you reach the minimum force required to remove dirt and mildew. Never get closer than a foot (or two feet if washing stucco). Keep the wand perpendicular to the siding as you spray.
The best way to prevent damage is to use detergent. Cleaners allow you to easily eliminate stains while keeping PSI levels to a minimum. If you have wood or brick siding, make sure to wet the surface before applying the detergent.
Best Pressure Washer for House Cleaning
A gas-powered pressure washer works better to clean siding than electric machines. Gas pressure washers provide a higher GPM, allowing you to cover more area faster.
Soft Washing
For ultra-cautious exterior cleaning, consider soft washing. Soft washing removes dirt, moss and mildew by applying detergents at ultra-low pressure (under 1000 PSI). This option may be better than pressure washing when cleaning stucco, wood siding or asphalt roofs. While soft washing is safer, it also requires more water and chemicals than power washing.
Deck Pressure Washing
Power washing decks is common for removing grime or when preparing to stain the wood. You'll want a PSI between 500 and 1200 depending on whether your deck is made of soft or hardwood. Choose a nozzle with an angle that's 40 degrees or higher. Test a small area of your deck to make sure there's no damage before continuing.
Spray with a sweeping motion while maintaining a consistent distance from the wood. This distance is typically between one and two feet. Work WITH the grain by cleaning parallel to the wood boards. If your deck is badly soiled, you may need to use a detergent. Keep in mind that if you use stripping chemicals, you'll likely need to sand the entire deck before staining it.
Best Power Washer for Wood Decks
Both gas and electric pressure washers will work for cleaning decks. Since wood can be easily damaged by high pressure, a high-power pressure washer isn't necessary.
Driveway Pressure Washing
Cleaning concrete means you can really crank up the pressure. With this in mind, be sure to take extra safety precautions to prevent injury or damage to anything nearby.
First, attach a 25-degree nozzle and remove surface-level debris. Then snap on the soap nozzle and coat your driveway with the water/detergent mixture. Overlap the strokes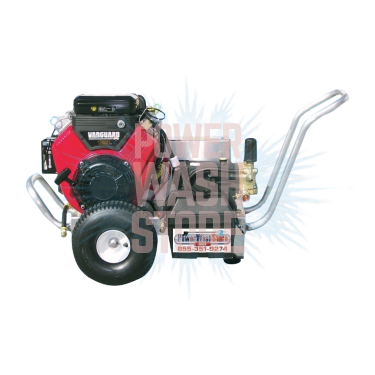 as you go to ensure full coverage. After the soap has sat for five minutes, switch the tip to either the 25-degree nozzle or a rotary nozzle. Rotary nozzles quickly rotate a highly pressurized water stream, providing both power and coverage. For stubborn stains, the wand can be as close as four inches from the concrete.
Best Pressure Washer for Concrete
While both gas and electric pressure washers work for cleaning concrete, a gas machine offers more power and will get the job done faster. Gas pressure washers are also more portable since they don't have to be plugged into an outlet.
Commercial Concrete Cleaner
Power Wash Store Milwaukee provides Crete Kleen to the Milwaukee area. The non-caustic formula is made specifically for cleaning unfinished concrete surfaces. The cleaner brightens concrete while lifting oil and grease stains. Solution stabilizers prevent pollutants from resettling before being rinsed away. Its special blend of heavy-duty degreasers has made Crete Kleen the first choice for concrete cleaning contractors around the country. Crete Kleen is available in a range of size options, from 5-gallon kits to 55-gallon cases.