Softwash Machines for Sale in Milwaukee, WI
Softwashing vs Power Washing vs Pressure Washing Explained
Soft washing is distinct from pressure washing because of the pressure of the water used for washing.
Soft washing is a low-pressure form of washing using a high GPM to PSI ratio. Soft washing is typically done on surfaces that could be damaged by high PSI, such as wood, shingles, siding, and more.
Pressure washing utilizes high PSI, sometimes as high as 4000+ PSI. Pressure washing uses the mechanical energy of high-pressure water to remove dirt and grime from hard surfaces, such as concrete, sidewalks, and more.
Power washing is pressure washing that uses hot water to aid in the cleaning process. Certain situations require hot water to adequately clean the surface, such as oil, grease, and food residue.
Benefits of Soft Washing
Soft washing is a great method for cleaning more delicate surfaces. It relies on the use of bio-friendly chemicals to break down and kill algae, mold, and grime. While pressure washing can mechanically remove dirt, grime, mold, and algae, it doesn't stop the mold or algae from growing. The chemicals used in soft washing will kill off mold and algae to prevent them from quickly growing back.
| | | |
| --- | --- | --- |
| Cleaning Job | Soft Washing | Pressure/Power Washing |
| Asphalt Roofing | Ideal | Not Recommended |
| Decks | Ideal | Sometimes helpful, especially with composite |
| Siding | Ideal | Depends on siding material |
| Paint Prep | Often doesn't remove enough loose paint and chemicals can leave a residue | Ideal, unless the material is particularly delicate |
| Garage Floors | Limited effectiveness | Ideal |
| Sidewalks | Limited effectiveness | Ideal |
| Driveways | Limited effectiveness | Ideal |
| Food, Oil, Grease Removal | Limited effectiveness | Power Washing |
Understanding GPM and PSI
GPM stands for gallons per minute and PSI stands for pounds per square inch.
GPM measures the amount of water flow. A higher GPM means more water, which allows for faster cleaning and rinsing.
PSI measures the pressure of the water stream. Higher PSI means higher pressure and more mechanical energy to assist with hard-to-remove dirt and grime.
Supplying Contractors with Custom Softwash Skids & Trailers
Call The Power Wash Store if your soft washing business needs machines, trailers, skids, equipment, or detergents to stay in the game. We supply commercial pressure washers for commercial and industrial businesses. Keep your shop clean and your customers happy with the best equipment in the business. Increase profitability with:
Custom Builds and Special-Order Softwash Rigs
Need a soft wash drop-in skid because your drivers can't legally pull a full-size trailer? Need a trailer to hold bigger tanks, more machines or more hoses because you regularly wash apartment complexes or large businesses? Need a way to keep your chemicals perfectly proportioned? We can build whatever it is you need to keep your business profitable. We can even make it stainless steel or powder-coated so it lasts longer.
---
If we don't have what you need on the website, chances are we have it in the store, can special order it for you, or can build it specific to your needs.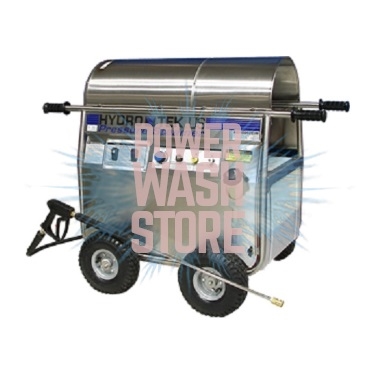 Softwashing
GPM is higher relative to PSI
Used for washing siding of homes, cleaning cars, roof and window washing, applying/rinsing thick detergents
Most often used in conjunction with detergents, chemical boosters and surfactants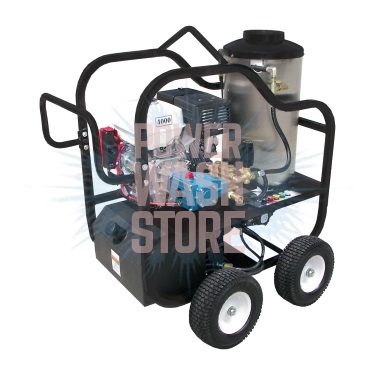 Power Washing
PSI is higher relative to GPM
Used for blasting off tough stains, gum spots, removing paint, cleaning oil and grease from hard surfaces
Often uses pressure and water temperature as main means of removing dirt from surfaces



Learn more about our rentals and used equipment available for sale. We also accept trade-ins on new equipment purchases. Let us know what you have and we'll let you know how much we credit you for it on a new purchase.
Practical for Commercial & Residential Use
Softwash machines are the preferred way to clean homes and businesses, primarily because there is considerably less risk of damaging siding with a soft wash machine. They're also extremely useful for cleaning vehicles—especially if you enjoy off-roading. You don't have to be a professional to make the purchase of a soft wash machine worthwhile.
Softwash Machine Rentals in WI
If you just want to give your house a good cleaning every year, buying a soft wash machine may seem like overkill. Consider renting one for a day or a weekend from the Power Wash Store. Just let us know what you're planning to use it for and we'll recommend the best machine for the job. Call ahead and we'll reserve it for you, then show you how to use it when you come to pick it up.
---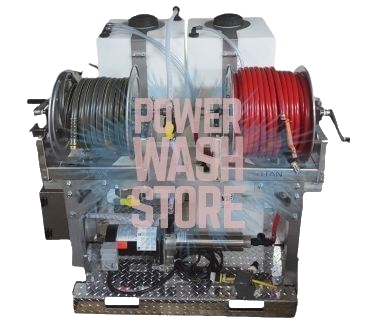 Skids are available with a booster pump, air diaphragm pump or 12V pump. These mini skids have a footprint of 40" x 44".
Learn More