Surface Cleaners for Sale in Milwaukee, WI
Who has time to scrub filthy floors with a brush? Save time and your back by using a flat surface cleaner pressure washer from Power Wash Store Milwaukee. We have a great selection of flat surface cleaners that will get the job done better and faster than scrubbing or using a regular power washer with a hand-held wand.
If you have heavily soiled cement, a flat surface pressure washer is the only way to go. With a regular power washer setup—hose, gun, wand, nozzle—you have to make sure you maintain the same distance from the nozzle to what you're spraying for the entire length of the surface. If you've ever tried doing this on a big job, you know how darn near impossible this is. A flat surface cleaner maintains a consistent width and virtually eliminates the back pain you get from trying to hold the wand just so for extended periods of time. Heavily stained concrete comes out looking bright and clean.
What is a Flat Surface Cleaner?
A flat surface cleaner is a pressure-washing attachment that spins two or three tips around a spindle close to the ground. Surface cleaners enable faster, better, and less back-breaking cleaning of flat surfaces, such as concrete. Surface cleaners also have a skirt to prevent overspray to keep you relatively dry, especially compared to using a hand wand.
Flat Surface Cleaners vs Standard Wand
Flat surface cleaners are much faster than standard wand pressure washing. Many factors affect exactly how much faster it is. Generally, flat surface cleaners take only about ¼ of the time a standard wand takes. Imagine getting a job done in 30 mins that could take 2 hours with a wand.
Standard wand pressure washers often leave stripes, which look unprofessional and unappealing. Surface cleaners don't leave stripes when used properly and clean very uniformly.
What Surface Cleaner and Tips Do I Need?
Flat surface cleaners come in a number of different sizes, measured in width and number of tips. We carry 19" all the way up to 48".
How to measure what cleaner you need. A general rule to get the size surface cleaner you need is to take the GPM of your pressure washer and multiply that by 4 to get the maximum width. For example, 6 GPM x 4 = 24" maximum width surface cleaner.
What nozzle tips you should use? Some surface cleaners have two nozzles, some have up to 4 nozzles. Nozzle sizes are measured in two main ways, fan pattern and GPM flow. For example, a 25035 means a 25-degree fan pattern and 3.5 GPM flow. To figure out your nozzle size, take the GPM of your pressure washer and divide it by the number of nozzles. If your machine is hovering up off the surface, test out larger tips, one half-step at a time. For example, a 6 GPM pressure washer attached to a 2 nozzle machine should use 2503 tips, and if it is floating, try a 25035 tip, test, then 2504, test, etc until the cleaner moves easily and doesn't want to float up off the surface.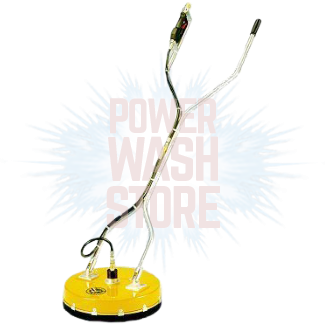 Clean more thoroughly with the Whisper Wash Classic 19" surface cleaner. The WW-2000-4-38 is a step up from the WW-2000 because it has 4 spray nozzles instead of 2.
Learn More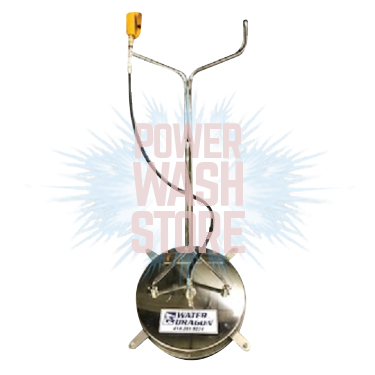 This is a great surface cleaner for both hot and cold water applications. Caster wheels reduce fatigue.
Learn More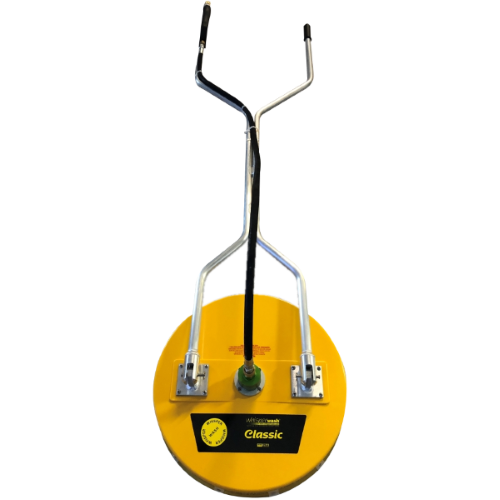 Clean thoroughly with the Whisper Wash Classic 2 nozzle 19" surface cleaner.
Learn More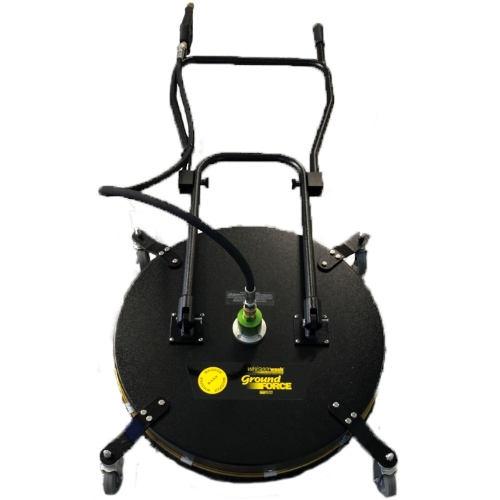 Clean more evenly with the Whisper Wash Ground Force 24" surface cleaner. Four 4" casters make the machine glide smoothly with little effort
Learn More
Get maximum surface coverage with this 36" surface cleaner. It's equipped with 4 casters making it easy to move in any direction.
Learn More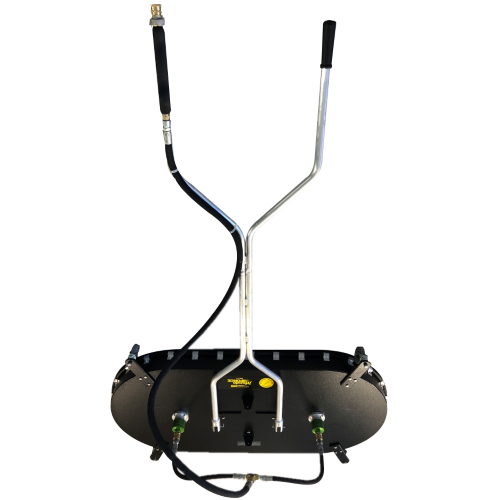 This 48" diameter, dual swivel surface cleaner is made from heavy-duty aircraft-grade aluminum for extreme durability.
Learn More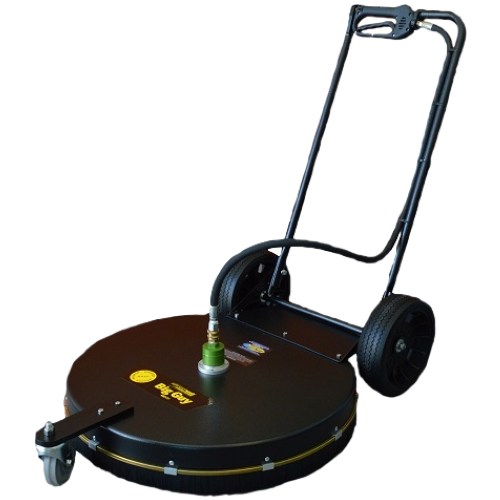 One of our contractor's favorites, this 28" surface cleaner has a deck constructed of aircraft-grade aluminum.
Learn More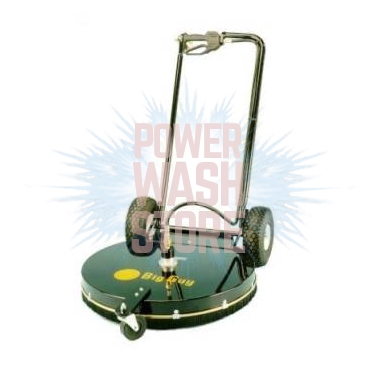 Two 10" air-filled tires and a 4" front caster make this unit easy to maneuver.
Learn More
Ergonomic Design
Adjust the handle/s of your surface spinner to fit your individual height and keep the strain off your wrists.
Fixed Nozzle Height
Your nozzles stay a fixed distance from the ground for the duration of the job and sit safely under a covered.
Water Containment Skirts
Nylon or rubber splash skirts keep your water and suds from spraying everywhere and creating more rinse work.
Maneuverability
We carry flat surface spinner models with castors to help the machine glide smoothly and evenly across the surface.
Buy New/Used, Rent, or Trade-In
Power Wash Store Milwaukee has a huge array of flat surface cleaners for sale and for rent. Tell us what types of cleaning you do and we'll show you the best options for getting the job done right. With machines ranging from 8" handheld models for removing graffiti on vertical surfaces to 48" models designed for cleaning parking lots and garages, we have machines for every job.
The Power Wash Store carries new and lightly-used models, and take trade-ins toward purchases. We also rent out surface cleaners for those who only need one occasionally. Stop by our Milwaukee store for a free product demonstration. If you already know what you want to rent, we recommend calling in advance to ensure product availability.