Cold Water Pressure Washers for Sale in Milwaukee, WI
Cold water pressure washers are ideal for cleaning off caked-on dirt and soil. These are your weapon of choice if you're cleaning a fleet of vehicles, farm machinery, or anything that gets non-greasy dirt and grime on it. Cold water pressure washers are also widely used for cleaning off graffiti and removing paint. Since cold water pressure washers don't require any heating mechanism, they are simpler in construction and less expensive than hot water pressure washers. They tend to be more compact than hot water pressure washers, so they're easier to transport and easier to maneuver on-site.
Power Wash Store Milwaukee carries both electric and gas-powered cold water pressure washers for everything from occasional use by homeowners to heavy-duty models built for professionals.
5-Star Customer Service
Whether you're buying your first power washer or your fortieth power washer, Power Wash Store Milwaukee is here to help you get the best machine for your money. You just won't find a more helpful, knowledgeable or friendly pressure washer dealer in Wisconsin. We offer the latest technology in commercial and industrial power washing machines.
Power Wash Store Milwaukee has a huge selection of cold water power washers. Tell us what types of jobs you do and we'll help you narrow down your choices. Can't stop by in person? Give us a ring on the phone and let's talk.
Benefits of Cold Water Pressure Washers
Fewer parts to maintain
Cost less than similar hot water models
Easier/cheaper repairs
More practical for home-use applications
Less equipment to haul
Overall ca$h $avings
High GPM vs High PSI
GPM (gallons per minute) and PSI (pounds per square inch) matter a lot more when you're using a cold water pressure washer as opposed to a hot water model because you're losing the advantage of having the heat to help the water penetrate.
Use High GPM for:
A high GPM would be preferred for applications like cleaning the undercarriages of fleet vehicles, commercial car washes, rinsing off soaps and detergents, and when the surface you're cleaning is brittle or delicate. When cleaning a lot of something that comes off easily, like mud, choose a high-GPM machine.
Use High PSI for:
High PSI machines are preferred when you really need force to get something cleaned. Stripping paint, cleaning cement driveways or sidewalks, and getting years of discoloration off the siding of your house are jobs best left to machines with high PSI. Use caution, though, as vinyl siding can actually be broken by the force of water coming out of a high PSI pressure washer, and you need to spray at an angle that won't push water into the gaps in the siding.
Techniques, Tricks, & Tips for More Effective Pressure Washing
Knowing what to do with your pressure washer is just as—if not more—important as having one. The machine is no good if you can't get it started or the pump blows from dry-running cavitation. That's where Power Wash Store Milwaukee can help, especially if you're new to pressure washing.
Come into the store and you'll see why we get such great reviews from our customers. We'll take the time to demonstrate the pressure washer you're considering before you buy any machine or equipment, and we'll make sure you know how to use whichever one you buy so there are no surprises when you're at your first job site with your new industrial machine.
Better Pressure Washing Starts Here
The only thing more important than choosing the right pressure washer is knowing how to use it. Even a great machine is useless if you're not using it properly. That's why we recommend stopping by our store for a free product demonstration of the machine you're thinking about buying. We'll show you how it works and what you need to maintain it so you can be an informed buyer and feel great about your decision.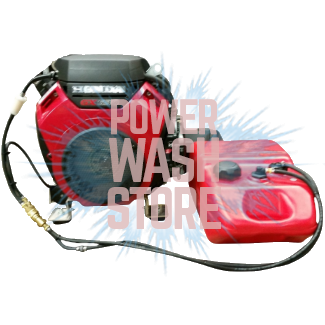 We have cold water pressure washers to meet all of your cleaning needs. Please call for machine size availability.
Learn More