Custom Built Soft Washing and Pressure Washing Skids & Equipment
3/4HP Booster Pump in a Box
Our Booster pumps in a box setup is a great way to add a soft wash system to your truck or trailer. This system includes a 3/4HP Booster pump, Control Wizard, and Pro-Portioner with an optional hose reel option.
6' Drop-In Skid w/ 12V Soft Wash System & RO/DI
This 6ft skid features a whole lot of cleaning power packed into a 6ft bed. It features a 12v soft wash system with Pro-Portioner, 8gpm hot water Hydrotek pressure washer, RHG RO/DI Water purification system, Titan 12" electric hose reels, 100gal tank, 55 gal tank, and 2x 7gal soap tanks.
Booster Pump Mini Skid
This 3/4HP Booster pump mini skid has a small footprint of 40 x 44" making it a great addition to a new or existing exterior cleaning rig. This skid has a 3/4HP Booster pump with Pro-Switch, Pro-Portioner mixing system, Control Wizard, 2x 18" Titan Hose Reels, 2x 7 gal soap tanks, and 2x 55 gal tanks. These units are complete and plumbed ready for use.
8' Drop-In Skid w/ Air Diaphragm Soft Wash System
This custom-built drop-in skid unit was built for use in an 8ft pickup truck. The skid features an air diaphragm soft wash system with Pro-Portioner, Electric start air compressor with remote, aluminum fuel tank, 8pgm 3500psi Water Dragon cold water pressure washer with 14 gal aluminum fuel tank, 3- 18" Titan Hose Reels, Rhino Lined toolbox, ladder rack, 200gal water tank, 100 gal chemical tank, 2x 7 gal soap tank and a 12v pump for fresh water.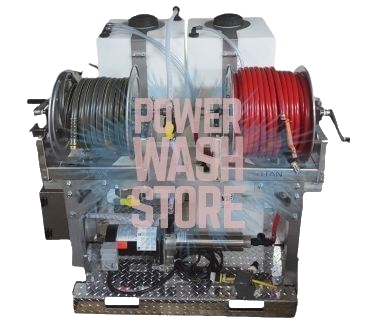 Skids are available with a booster pump, air diaphragm pump or 12V pump. These mini skids have a footprint of 40" x 44".
Learn More