Pro-Portioner Chemical Mixing System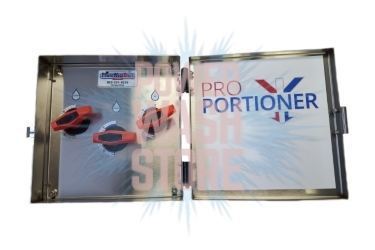 Features
The Benefits
The days of manually "batch mixing" are over. The patent-pending Pro-Portioner system allows you to draw from individual tanks of your pure products and proportion them to your individual desired mix. Now that you have perfected your ratios for your chemical solutions, maintain that desired solution without the errors that manual handling can create.
Not only will your mixes be at the right ratio for the job, but they will also be mixed at a more efficient rate than ever before. The Pro Portioner works on the inlet side of your pump system and is compatible with 12volt pumps, air diaphragm pumps, booster pumps, and other demand pump systems.
High-Quality Parts
The Pro-Portioner systems are built to last. That's why every unit is constructed with replaceable or rebuildable parts. The internal mechanism, valves, and other parts are crafted to withstand the use of commercial and industrial pressures and chemicals.
We recommend the SH (bleach) valve be rebuilt annually for uninterrupted use. Flushing the SH valve is recommended after every use to prolong the valve life and to clean the internal mechanism. It can easily be done with the installation of a 3-way valve on the SH intake. Having one side going to SH and the other to water you simply turn the 3 way to water after using and flush system, pump, etc.
How to Operate
The necessary components to get started:
A water tank
A bleach tank
A soap source
It's possible to pull the soap out of 1-gallon jugs—or 5-gallon pails, but larger tanks will allow for less refilling and extended run time. Water and bleach tanks will be plumbed from the top with equal length 1/2" lines. The soap supply can use 1/2", 3/8" or even 1/4" as it is just a drip in the system. All pickups must be filtered to control debris intake. Individual testing is recommended as the mixing system will vary slightly from user to user.
Warranty:
The Power Wash Store offers a full one year warranty, in-house only. You may ship it back for a no-cost annual inspection within the first year. For the 1st full year, warranty labor is at no charge, you only pay the cost of required non-warrantied parts. Each component that makes up the final assembly has its own individual warranty. The case has a lifetime warranty against manufacturer defects. The wearable items such as valves, check valves, fittings and hinges carry a 90-day warranty against manufacturer defects but do not include damage due to wear or chemical damage.
Specifications
The following degrees indicate approximate percentages for SH (bleach) valve is as follows:
The soap valve will start to flow soap at approximately 35-40 degrees.
The soap's viscosity affects the draw, so open to 35-40 and adjust as desired.
| SH Valve Setting | Water Valve Setting |
| --- | --- |
| 50° = 10% | 180° |
| 80° = 20% | 180° |
| 110° = 30% | 180° |
| 140° = 40% | 180° |
| 180° = 50% | 180° |
The water valve will stay wide open at 180 degrees. The only time to adjust the water is when you want to go above 50% mix. Seldom will you go over 50%, but if you need to, use SH settings in reverse.
| SH Valve Setting | Water Valve Setting |
| --- | --- |
| 180° = 50% | 180° |
| 180° = 60% | 140° |
| 180° = 70% | 110° |
| 180° = 80% | 80° |
| 180° = 90% | 50° |
These settings are approximate and will vary based on each units setup and plumbing. These should be seen as a starting point to fine tune your unit. Once your ratios are determined they will be repeatable and should not change. These percentages are based on 10.5% SH. Across the country, SH percentages and quality vary so it is very tough to make exact mixes from area to area, but this system is incredibly repeatable. Find your perfect spots and mark it for your system.
Videos